It's September, wedding season is almost in your rear-view mirror, and it's time to take stock of the madness of summer. When you're in the midst of hundreds of Avalanche roses, it can be difficult to see the astilbe from the wild flower bouquet (if you catch my drift). But the bigger picture of how you're planning and organising can make a huge difference to you and your business, especially when it comes to stem counts and buying lists.
Push those Avalanche roses to the side and you might see unorganised piles of paper and one very stressed florist in their wake… sound familiar? A florist that finishes a weekend of weddings, goes home and immediately has to start working out stem counts and how much of everything they need to buy for the weddings the following week.
We've just launched Strelitzia Wedding & Events, which takes the time and stress out of stem counts and buying lists (as well as much, much more!). Create your proposals, add easy and quick stem counts to your items, and automatically generate buying lists, massively saving you time!
Strelitzia Wedding & Events also gives you a structure in correctly pricing your work. Strelitzia will add up your stem count, then allows you to add in a cost for labour and other costs, then compares that to your quoted price, allowing you to see if you're charging enough.
When your buying lists are generated, Strelitzia will list the amount you've charged in your stem count, giving you a helping hand on how much you can spend on each flower.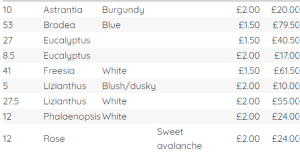 Tell me more! I hear you say. Now that you've got some time, how about a free month trial so that you can see for yourself how easy it is to use?
Fill in the form below and we'll be in touch 😊 We're florists too, and we'll give you a demo showing you how we use Strelitzia Wedding & Events in our florist, Flowers by Nattrass.