One of the most common questions we get from new Strelitzia customers is how we integrate Strelitzia into Flowers by Nattrass' order taking, product creation and delivery services. So, Amy thought she would take 5 minutes to get it on paper and let you know how we did things Flowers by Nattrass over Mother's Day this year. Hopefully, it will give you a few ideas!
It turned out to take slightly longer than minutes and included A3 paper and the sharpies we bullied Mark into buying as a 'back to the office' present to ourselves. Here is the result and the 'quick' explanation:
Orders Received
We get orders in from multiple sources:
Since covid, we have moved back to our roots. A studio in our village that is open to members of the public. All orders are put straight into Strelitzia by the team and printed off. Strelitzia then sends them a receipt directly to their inbox. All emails are covered by GDPR rules so that's all covered for our florists.
As soon as an order is in from our website it is in Strelitzia. Strelitzia even flags them visually for us keeping life simple.
We use a VoIP system which directs calls to either our main computer or our team's mobiles (brilliant for keeping everyone covid safe) and means phones can be answered remotely if necessary. Similar to our shop sales, these orders go straight into Strelitzia and a receipt is sent directly to the customer's inbox. FBN is also trialling Strelitzia's payment gateway which allows us to take payments in Strelitzia rather than a PDQ machine (Keep following us on socials for more updates!) As we have two branches, our remote call takers enter orders into the first branch with make-up in a second branch so the order is flagged as 'new' to the team in the shop to print & organise. Easy.
We accept orders on our relay platform and they get sent directly to Strelitzia. And you guessed it; They are flagged as 'New' and ready to print.

Processing and organising orders
Orders are printed and stored by day in our file. I know other Strelitzia users use bull clips and increasingly are using paperless options. They simply assign each product to a florist on Strelitzia.
We print all our orders on our recommended 'peel and stick' labels. This means the delivery address and card message are ready and perfectly sized to fit on our floristry cards. It saves hours in busy periods.
Once the card is written we then add two items to the card. Firstly, we write what needs to be created on a post-it note stuck on the front of the envelope and we colour code the card depending on which areas of Darlington the item is to be delivered. Making it easy for the florists to store the products from each delivery lists together. Saving time on Mother's Day morning!
Creating the Orders
Then the most important part of the process: Our florists then create the products and store them on Dutch trolleys by delivery day and delivery colour in our storage area.
For busy periods we also print out the make-up list to give us a list of what we are creating and tick off orders created. This is simply a double check that flags any errors.  The QR codes displayed on this list this also help our florists know what they are creating. No matter where the item is from, shop, web or replay, our florists can scan the QR code with their phone camera and Strelitzia will show them what needs to be created. Simple and easy.
Some of our paperless florists use this feature to give the florists a list of what needs to be created.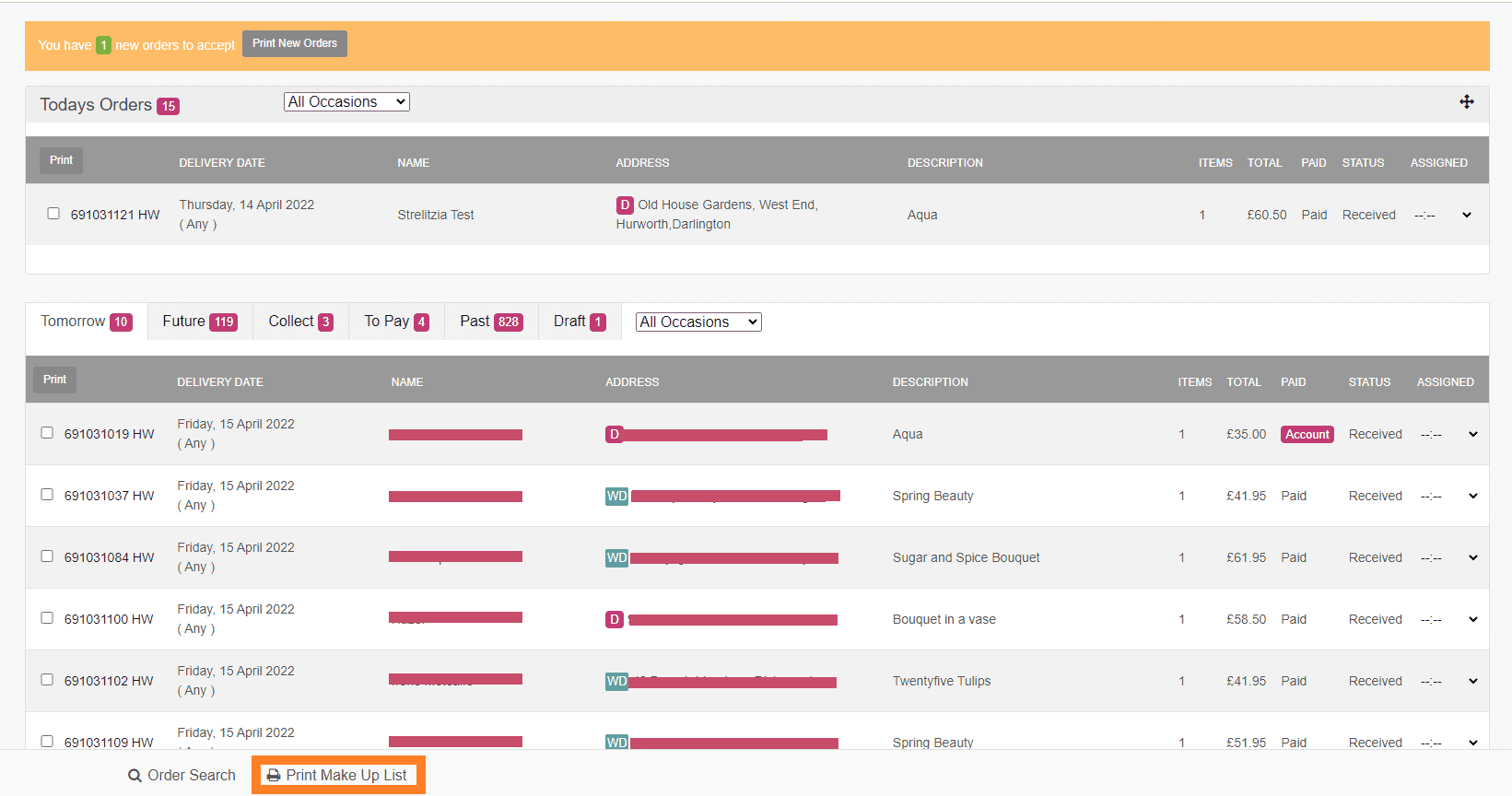 Delivery Lists
Mark (our delivery whizz kid) then organises the deliveries lists the evening before. We simply drag and drop them into vans, auto-sort the orders by postcode and Mark tweaks the routes from there. Although (spoiler alert) Mark is soon to be made redundant. The delivery app that we are currently beta testing will help him organise the routes better and even create directions to the next stop for your driver using Google Maps.
Get the drivers on the road and flowers delivered.
It's Mother's Day morning. We are up for about 7am and we load our vans starting at the end of each route and working forward. The list Shows the driver all products listed below is example of how the information is displayed.
Change this screen shot to show website items with their name listed – when loading vans this is really useful!!
Delivery confirmation
Once the drivers have completed their route we will send a delivery notification to the customer letting them know their gift has arrived and asking them to review Flowers by Nattrass.
We hope you found this useful! We'd love to know if you have any useful ways to keep organised over the 3 peaks. Email Amy at amy@strelitziasoftware.com and let us know.