The clocks have gone back, there's Chocolate Oranges lining the supermarket shelves and there's rumours of a turkey shortage. It can only mean one thing. It's November and officially time to put together your Christmas 2021 product range.
'Oh no', I hear you say. But wait before you rush out to buy the latest DSLR camera. There's no need. Not only will it bankrupt you, you won't know how to use it. All you need is your smart phone, a bit of creativity, a laptop and some time.
Katie has been busy creating 7 new Christmas products for our sister company, Flowers by Nattrass, and here she's going to share with you how she did it, and how easy it is for you to do it too.
Order some Christmas flowers
Think about how many products you want to create, and order in some Christmas varieties. Make sure you've got some spruce, berries, dried fruits – anything you'd usually have over the Christmas period that you know will be decently priced. For example, if you're worried about the cost of Ilex over Christmas week, don't put it in your range. Also make sure you've got a good selection of mixed colours to work with. Flower prices have been extremely unpredictable this year, and you want to make sure everything doesn't have red in it!
Remember that creating your Christmas range is a marketing activity, and it will cost you money to begin with. But a fantastic new online Christmas range should mean you will more than make it back.
Create your range
Put aside a day, if you can, so you can focus on making and then photographing your products.
Katie planned on 6 new products for Flowers by Nattrass, but ended up making 7 on the day, so don't worry about sticking closely to everything you plan.
When you make each bouquet or arrangement, write down a stem count. This will be useful for later as you'll need to cost each item you made. More on this further down the line!
Looking at a bouquet or arrangement through a lens is very different to the naked eye. What might look like a perfectly round and full bouquet might show up with gaps in your photo. Be aware of this when you're making up, and if you can, make one side of the bouquet slightly higher than the other. The high side will sit at the back of the picture.
Photograph your range
First job – what kind of pictures do you want to create? Do you want a clean white background, or something rustic like wooden crates? Have a google and see what you like and what you don't like, then set to work creating your stage.
For this shoot, outside space worked well to take the photos. We've got an old wooden greenhouse with a green wooden door that made a lovely backdrop. Katie then used a wooden seed sieve and some wood slices to place my products on.
So, you've got your stage, you've got your products, time to start photographing! Back to that smart phone. I used an iPhone 11. The better the camera on your phone, the better the results will be, so if it's an option, investing in a good smart phone camera is worth doing.
Make sure that you've got some spare stems on hand to fill in any gaps the camera might see, and off you go! Simply cut the stems down and place the flowers into the top of the bouquet if you see any gaps.
Take a range of shots, ideally around 20 for each product. Take a mix of closeups and shots from further away. Remember you can crop the photo later to get the best picture you can. Light is also important. The more natural light the better, or take the pictures outside.

Editing your photos
This isn't as difficult as you might think. Katie uploaded all the photos she took onto the cloud – OneDrive or Dropbox work well. For this project, Katie used a Microsoft Windows laptop, so this will be different if you use Apple products.
Double click on the photos and the default photo editing app will open. Go to Edit and Create, select Edit, and here you can adjust the colour and size of your photo.
Keep an eye out on our social media because Katie is already in the middle of creating a short how-to video so you can see exactly how I do this. Put simply, adjust the colour to the max, and crop the photo as needed. That's it!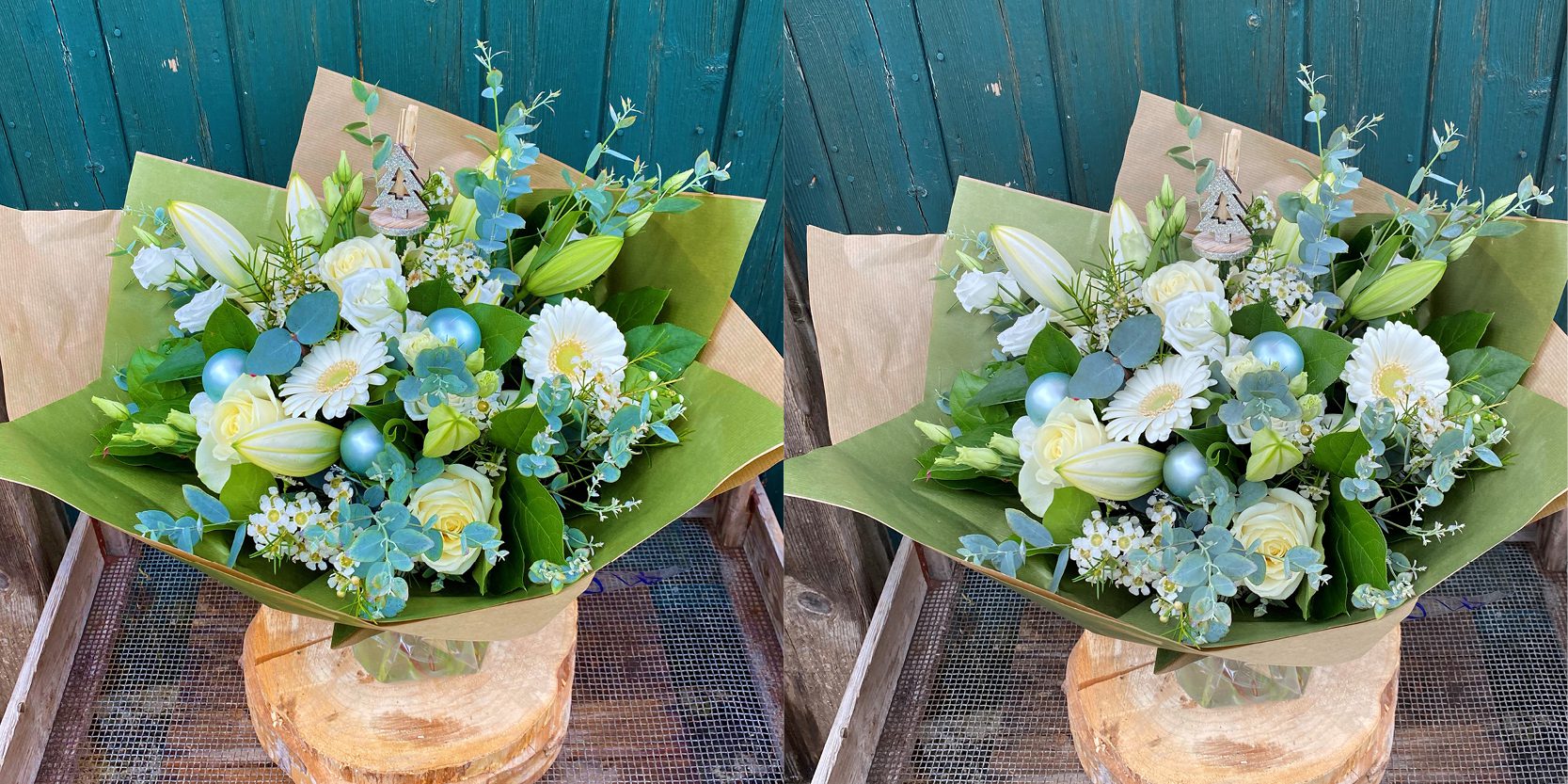 Price Range
 Go back to the stem counts you wrote down when making each product. Work out the sell-out price based on your usual method. Don't forget to add in labour, skill and sundries.
For example, the bouquet you made and photographed has the sell-out price of £55. Create 3-4 different price points. I'd go with £45, £55, £65 and £75. Make a note that the pictured bouquet is £55, as this will come in handy when uploading your products to your website.
You've now got a ready to go stem count for each of your new Christmas products, ready for your team to use.
Naming your new Christmas Products:
This is just as important as everything else, as it plays into how you'll market your Christmas range. Katie likes to use words that really emulate the Christmas spirit. Think colour, mood, lighting, food, drinks – anything that makes you think 'Christmas!'
Katie has put together a list of 20 product names below, some of which she used for the Flowers by Nattrass Christmas range. Feel free to use any of the names for your Christmas product range, or use them for some inspiration!
Pink Tinsel, White Snow, Gold rings, Red Robin, Red Rudolf, Jolly Holly, Bright Star, Merry Bright, Green Elf, Silver Sparkle, White Ice, Night Sky, Bright Bauble, Glowing Candle, Mistletoe Wine, Candy Cane, Christmas Cracker, Blue Icicle, Jingle Bells, Mulled Wine
Upload to your website and Strelitzia
This is the best bit! Seeing your new product range online and available for your customers to buy.
How to upload pictures to your website will depend on how hosts your website. For Strelitzia, you simply go to Shop Settings and Order Products. Give the support team a call on 01325 722398 or email support@strelitziasoftware.com and Matt, Archie or Amy will give you a hand.
Create a social media and email plan
Why not highlight one new product each week from now until Christmas? Go into details such as the varieties and colours you have used, and why you chose the name. You could offer a discount code for 10% off the product you're highlighting?
Don't forget that with Strelitzia it's so easy to export your marketing database. Run a marketing report, then import the emails into your chosen email marketing tool such as MailChimp.
Click here to watch our quick video on how to do this.

Ta Da! We hope you've found this useful, and believe us when we say you can definitely do it too!
Have a look at all the finished products on Flowers by Nattrass' website https://www.flowersbynattrass.com/category-22/christmas.htm
Email us if you have any questions or need anymore advice on how to create your perfect and unique Christmas product range. Visit our Contact Us page
support@strelitziasoftware.com
Tel: 01325 722398